Gina Abbananto – Pet Sitter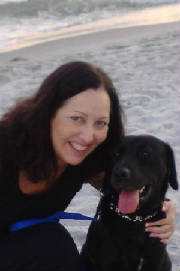 Born and raised in West Palm Beach and began working as a Pet Sitter for Deedra at Pet At Home in September of 2014.  I completed Pet First Aid and CPR training with Pet Tech and received my certificate of training. It's a great opportunity to care for many pets and I have learned new ways to make them comfortable when their pet parents are not able to be there.
Over the years I have had numerous cats and dogs, from Pomeranians to Great Danes.  Most of them were rescues and I just cannot imagine having a home without one.  In addition to working with Deedra at Pet at Home, I volunteer with Forgotten Soldiers Outreach and Shepherd Help and Rescue Effort (SHARE).
When I needed a sitter for my older dog, Bear, Deedra was the obvious choice. She is so thorough and caring. I felt very comfortable having her take care of my faithful companion and checking on my home. Unfortunately, Bear became very ill and crossed the rainbow bridge. The newest addition to the family is Kali, a lab mix from Big Dog Ranch Rescue. Of course I have Deedra taking care of her when I am away!